Dear reader,
Unfortunately we are forced to inform you that the Hasselt Cup will not take place.
Since the outbreak of the Corona virus in Italy we have followed the developments closely. For a long time we hoped that the event could take place. However, the outbreak has only worsened in recent weeks, resulting in the cancellation of the complete Easter program of Euro-Sportring.
We are very sorry for you and our partners in the first place. We would have liked to offer you a challenging sports weekend. All clubs have been informed by now. If you still have questions, please contact your Euro-Sportring contact person.
Euro-Sportring thanks you for your trust, supporting messages and understanding. We will make sure that in 2021 there will be a new tournament program ready for you.
See you at one of our Euro-Sportring tournaments.
Rogier de Kreek | General Manager
Euro-Sportring introduces: The Euro-Sportring Match Schedule App

Download the app and see your match schedule, actual results, standings and the latest information about your tournament. Download here.

For the 21th time now, Racing Club Hades hosts this international youth tournament football. After every tournament, we receive great reactions from players and supervisors praising the good organisation and atmosphere. This will be the second year the Hasselt Cup will take place at Zonhoven as well. Bigger and better than last year!! We'll try everything to make 2020 the greadest edition ever!
The people responsible for the Hasselt Cup don't only pay a lot of attention to the footballschedule, but also to a good atmosphere on and around the pitch, in the cafeteria, the places to sleep and the restaurant. We are doing everything we can to achieve our goal and hope the same from you.
The schedule of the Hasselt Cup offers activities during and around the tournament. Friday evening or Saturday, all teams can take a free swim in the Communal Pool. Sunday after the finals, it's time for relaxation and fraternisation. The different nationalities fraternised even without the previous mentioned activities during the last editions.
We are looking forward to your presence.

Het is voor de 21e keer dat Racing Club Hades het internationaal jeugdvoetbaltornooi organiseert. Na ieder toernooi ontvangen we fijne reacties van spelers en begeleiders voor de goede organisatie en de toffe sfeer. Dit jaar werken we voor de tweede keer samen met Zonhoven United als partner van de Hasselt Cup. Ze hebben beide een locatie om U tegen te zeggen en een organisatie die er alles aan zal doen om van 2020 een nog grotere en betere editie te maken.
De verantwoordelijken van de Hasselt Cup besteden niet alleen veel aandacht aan het voetbalprogramma maar ook aan een toffe sfeer op en rond de velden, in de kantine, de slaapplaatsen en restaurant. Wij doen er alles aan om ons doel te bereiken en hopen van jullie hetzelfde.
Het programma van de Hasselt Cup biedt activiteiten gedurende het toernooi maar ook voor buiten het toernooi. Vrijdagavond of zaterdag kunnen alle teams gratis een duik maken in het Stedelijk zwembad. Zondag na de finales is het tijd voor ontspanning.
De verschillende nationaliteiten zorgde tijdens de vorige edities altijd voor een verbroedering. Wij hopen dat de 21ste editie van de Hasselt Cup ook zo mag verlopen. Wij kijken nu al uit naar jullie komst.
Tot snel!
Locaties: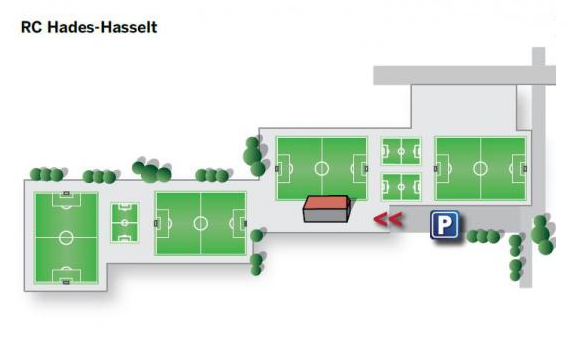 Zonhoven